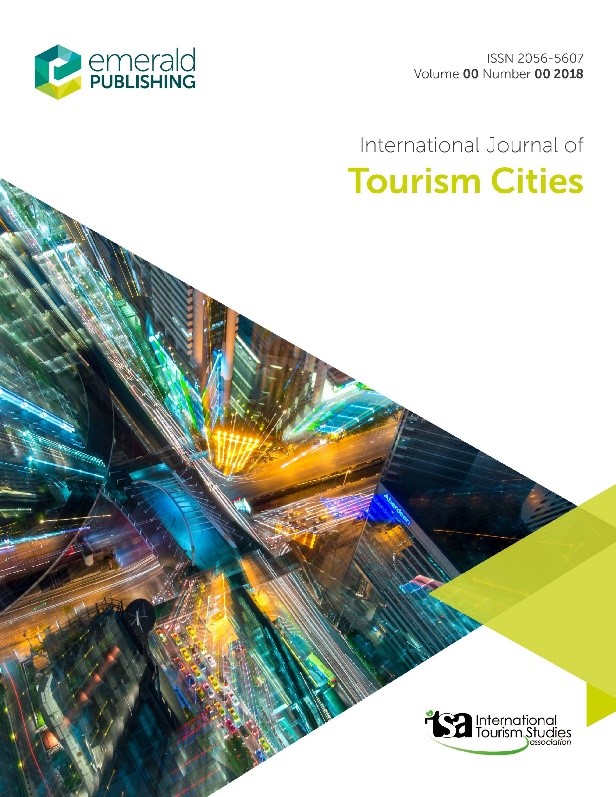 Overview
International Journal of Tourism Cities is the only academic journal exclusively dedicated to urban tourism research. A peer-reviewed journal, IJTC provides an international forum for the study of urban tourism and tourism cities. The journal aims to be inter-disciplinary in its appreciation of tourism cities and tourism in urban areas.
ISSN: 2056-5607
eISSN: 2056-5607
Aims and Scope
International Journal of Tourism Cities (IJTC) welcomes original, theoretically-informed articles from those involved in the planning, management or marketing of tourism in city destination or places adjoining urban areas.
IJTC contents include primary research articles, expert discussions on current urban tourism issues, and tourism city case studies. Articles are selected that are relevant to both academics and practitioners. The journal particularly encourages contributions on contemporary topics and issues in urban tourism including smart cities and tourism, environmental impact and sustainable tourism development in cities, citizen and stakeholder involvement in tourism, city destination governance, and the development of policies and standards for city tourism development.
IJTC Citescore 2022 increases to 5.8
We are glad to share that the C𝐢𝐭𝐞𝐬𝐜𝐨𝐫𝐞 2022 of the International Journal of Tourism Cities has increased to 5.8.
❇ 𝘊𝘪𝘵𝘦𝘚𝘤𝘰𝘳𝘦 2022 𝘤𝘰𝘶𝘯𝘵𝘴 𝘵𝘩𝘦 𝘤𝘪𝘵𝘢𝘵𝘪𝘰𝘯𝘴 𝘳𝘦𝘤𝘦𝘪𝘷𝘦𝘥 𝘪𝘯 2019-2022 𝘵𝘰 𝘢𝘳𝘵𝘪𝘤𝘭𝘦𝘴, 𝘳𝘦𝘷𝘪𝘦𝘸𝘴, 𝘤𝘰𝘯𝘧𝘦𝘳𝘦𝘯𝘤𝘦 𝘱𝘢𝘱𝘦𝘳𝘴, 𝘣𝘰𝘰𝘬 𝘤𝘩𝘢𝘱𝘵𝘦𝘳𝘴 𝘢𝘯𝘥 𝘥𝘢𝘵𝘢 𝘱𝘢𝘱𝘦𝘳𝘴 𝘱𝘶𝘣𝘭𝘪𝘴𝘩𝘦𝘥 𝘪𝘯 2019-2022, 𝘢𝘯𝘥 𝘥𝘪𝘷𝘪𝘥𝘦𝘴 𝘵𝘩𝘪𝘴 𝘣𝘺 𝘵𝘩𝘦 𝘯𝘶𝘮𝘣𝘦𝘳 𝘰𝘧 𝘱𝘶𝘣𝘭𝘪𝘤𝘢𝘵𝘪𝘰𝘯𝘴 𝘱𝘶𝘣𝘭𝘪𝘴𝘩𝘦𝘥 𝘪𝘯 2019-2022.

We owe this to everyone associated with the journal. Thank you for making this possible